Hardwood Floor Restore In Houston
With distinctive grains and unique tonal qualities, hardwood floors are a beautiful, time-tested addition to any home or office. Unlike carpeting or vinyl that often needs replacing after 10 or 12 years, hardwood is a "forever floor" that can last for decades—if you take good care and the precautions listed below in our wood floor tips.
To preserve the ageless style of hardwood floors, start by following manufacturer's advice for cleaning and maintaining proper humidity in your home, and stop these seven things that can detract from the look and long life of natural wood flooring:
Unprotected "feet" on furniture can be damaging to hardwood. Cover all plastic, metal, and wood bottoms with felt protectors.
Long pet nails can scratch the wood's protective surface. This allows dirt and debris to burrow into the grain, build up, and damage the wood over time.
High heels easily scratch and dent wood's surface and leave it exposed to more extensive harm. In fact, a 125-pound woman with spiked heels or a shoe nail protruding from a high heel yields as much as 8,000 pounds per square inch of pressure—that's more than enough to leave a trail of noticeable indents on the surface of any hardwood floor.
Cleaners and polishers can work wonders on vinyl or ceramic tile—not hardwood floors. Ironically, 2-in-1 cleaners containing acrylics or urethane polish actually dull wood and strip its finish after only a few applications. Self-polishing acrylic waxes can also make hardwood floors dangerously slippery.
Water, over time, will slowly deteriorate your wood's finish and leave it unprotected. Even water from a traditional mop or steamer will eventually damage the wood and lead to warping. Instead, remove spills immediately with a damp cloth and stick to dry dusters.
Rubber-backed area rugs have two ill effects on hardwood—they prevent air ventilation, sealing any moisture or spills in the wood, and often contain glues or adhesives that can compromise and corrupt your hardwood surface.
Direct sunlight can either fade or darken your floors, causing discolorations in areas near windows. Exotic species and cherry woods tend to darken as the sun's UV rays "burn" the wood, while other woods can lighten after extended exposure to sunlight.
Protect your floors from these common culprits, and you'll enjoy the beauty and style of natural hardwood for decades.
Source: malkins
Floor Floor We Restore has re-established the attractiveness in hundreds of homes and businesses throughout the Houston Area for Over 20 Years. Since 1984, we have provided maintenance and restoration that is essential to the beauty of floors and surfaces everywhere. With 30+ years of experience and never using subcontractors, we have perfected our trade to better serve you. We are a locally, family owned and operated company who GUARANTEE all of our work.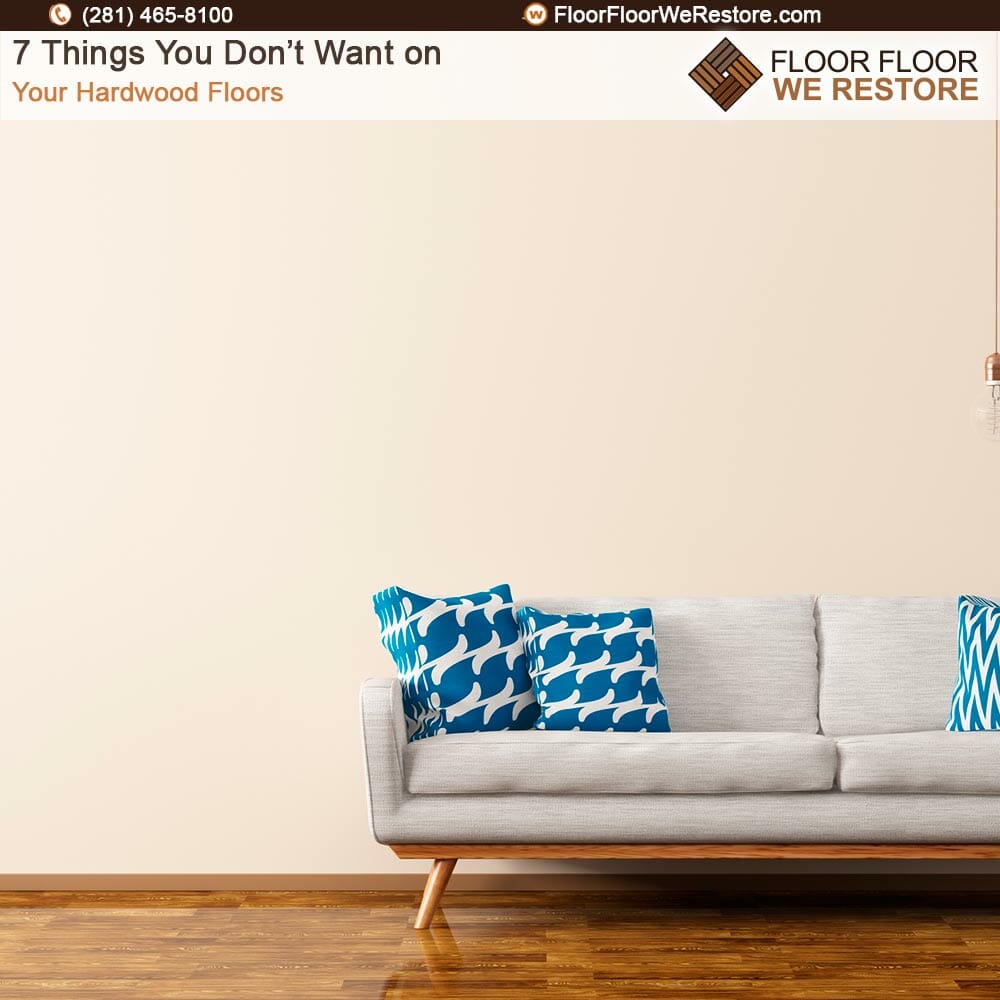 Hardwood Floor Restore In Houston.
Floor Floor We Restore, Marble Flooring In Houston, Hardwood Floor Restore In Houston, Houston Restore Hardwood Floor, Houston Restore Hardwood Floor Shine, Restore Wooden Floor, Restore A Floor Reviews, Restore Floor Tiles, Wood Floor Restore, Floor Restorers, Floor Restore And More, Floor Restorer, Hardwood Restore, Stone Restore, Slate Restore, Saltillo Restore, Tile Restore, Grout Restore, Terrazzo Restore, Travertine Restore, Floor Surface Restore, Floor Recovery, Cleaning Hardwood Floors, Hardwood Floor Polish, Buffing Floor, Water Damage Floor Restoration, Sand And Finish Hardwood Flooring, Hardwood Floor Installation, Hardwood Floor Repair, Hardwood Floor Installation, Hardwood Floor Repair, Hardwood Floor Installation, Hardwood Floor Repair.