Hardwood Floor Repair
When you're looking at renovating or buying a new home, selecting the flooring is especially imperative when you have pets in the household. As much as you love your doggo, your furry friend can cause all sorts of wear and tear over time when you pick the wrong types of flooring.
Generally the flooring you select should be durable and easy to clean due to urine accidents, muddy paws, and other inevitable things that arise.
Fortunately you still don't have to sacrifice style as long as you're mindful of your floor choices. You can have the best of both worlds with these flooring options for households with pets.
Laminate
Laminate floor gives your home a look like hardwood but can be easier to regularly clean. Laminate is hard and durable.
Selecting a textured or embossed finish can help prevent your dog from slipping when walking around. A rug or rug pad on top of laminate can give your dog extra traction.
Vinyl
Vinyl flooring is the go-to choice for many homeowners with dogs. And there's many reasons why. Vinyl's scratch and stain resistant. It comes in a variety of styles at a very cost effective price. Despite being very durable, it also has great traction for dogs walking around your home.
Hardwood
If you decide to go with hardwood, the most dog-friendly materials are:
Oak
Cherry
Maple
Hickory
Walnut
Mahogany
Sycamore
Softer woods are more prone to dents and scratches, especially with larger dogs.
Floor Maintenance Tips for Dog Owners
Here's a few easy tips to help lessen or prevent floor damage:
Place a mat underneath the dog bowl to catch any water that spills over.
Clip your dog's nails regularly, for most dogs this is every one to two months. However you'll be able to tell when it's needed as you can hear the dog's nails click when they walk on your home's floor.
Put doormats at every entrance including doors going out to your backyard.
If you decide on hardwood floors you can also condition them once per year and buff every few years. The top layer of the hardwood can also be sanded, stained, and refinished every ​10 years for high foot traffic parts of your home.
Need help choosing a specific floor design and with installation? Contact us today.
Source: millenniumhardwood
Floor Floor We Restore has re-established the attractiveness in hundreds of homes and businesses throughout the Houston Area for Over 20 Years. Since 1984, we have provided maintenance and restoration that is essential to the beauty of floors and surfaces everywhere. With 30+ years of experience and never using subcontractors, we have perfected our trade to better serve you. We are a locally, family owned and operated company who GUARANTEE all of our work.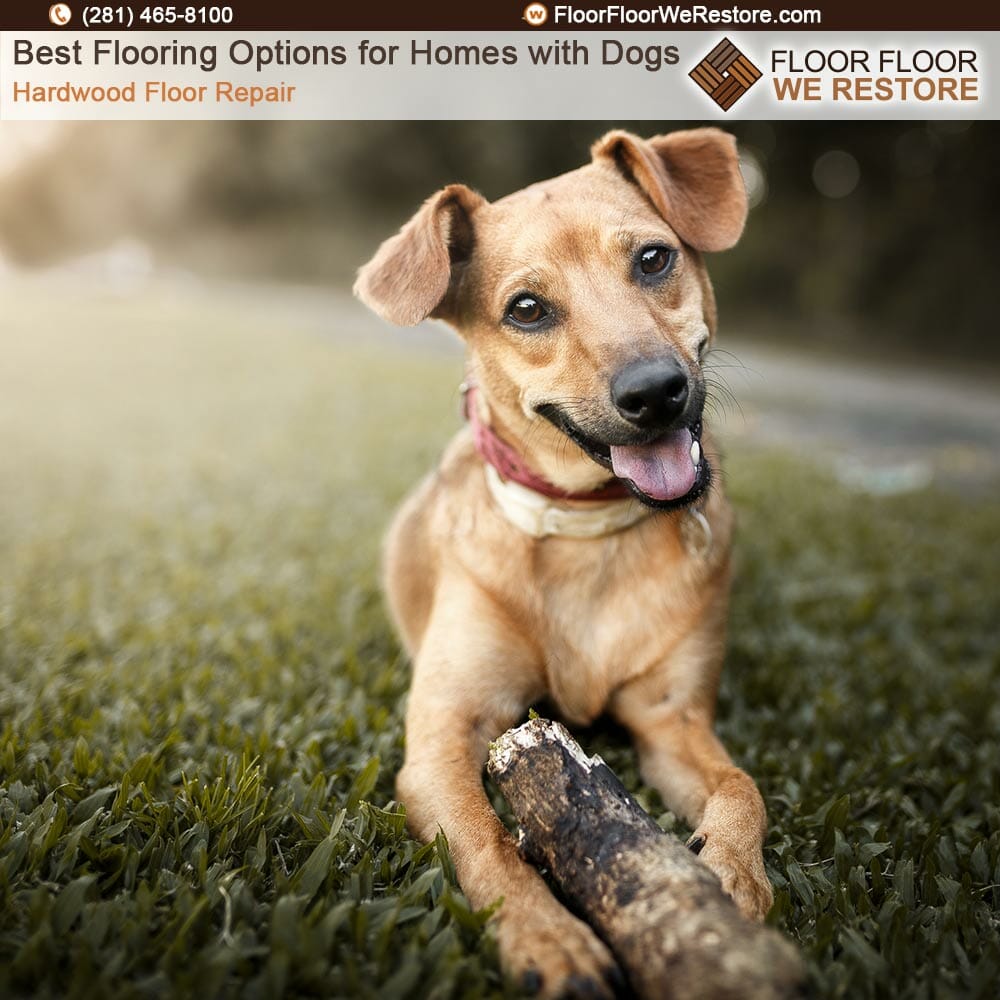 Hardwood Floor Repair.
Floor Floor We Restore, Marble Flooring In Houston, Hardwood Floor Restore In Houston, Houston Restore Hardwood Floor, Houston Restore Hardwood Floor Shine, Restore Wooden Floor, Restore A Floor Reviews, Restore Floor Tiles, Wood Floor Restore, Floor Restorers, Floor Restore And More, Floor Restorer, Hardwood Restore, Stone Restore, Slate Restore, Saltillo Restore, Tile Restore, Grout Restore, Terrazzo Restore, Travertine Restore, Floor Surface Restore, Floor Recovery, Cleaning Hardwood Floors, Hardwood Floor Polish, Buffing Floor, Water Damage Floor Restoration, Sand And Finish Hardwood Flooring, Hardwood Floor Installation, Hardwood Floor Repair, Hardwood Floor Installation, Hardwood Floor Repair, Hardwood Floor Installation, Hardwood Floor Repair.