Countertops Restoration
Finding the perfect countertop shouldn't be a challenge. Learn about different types of countertops so you can find a surface that's right for your home and budget.
Quartz Countertop.
Quartz is a very strong, non porous countertop option. It resists heat, water, bacteria and stains without sealing, making it very easy to maintain. Quartz countertops are simple to clean, offer a wide range of tones and have consistent colors and patterns.
Quartz countertops do have visible seams, and UV light can cause fading or discoloration, but the many other benefits make it a wonderful choice for countertops that last.
Granite Countertop.
Granite countertops are crafted from beautiful, strong, natural stone. Visually rich and dynamic, they're highly heat-resistant and can stand up to stains and bacteria when properly sealed. And, thanks to its ultra-smooth texture, granite is phenomenal for baking preparations, like rolling dough.
These countertops may have visible seems. Use caution around any stress points as the granite can split. While some granite countertops require sealing annually, pre-sealed countertops are also available for a maintenance-free alternative.
Solid Surface Countertop.
Solid-surface countertops are made of nonporous, acrylic material for a visually seamless appearance. They are available in a range of colors and patterns and the material can also be used for sinks and backsplashes. Solid-surface countertops resist water, bacteria and stains, providing a low-maintenance option for your home.
Solid-surface countertops are susceptible to scratching and less heat-resistant than other types of countertops.
Laminate Countertop.
Laminate countertops consist of sheeting glued to plywood or particleboard substrate. The result is a beautiful countertop that's quite durable, and the most affordable option. Laminate countertops resist water, are easy to clean and are available in hundreds of colors and styles. These countertops can also be suitable for DIY installation.
Keep in mind that laminate countertops sometimes have visible seams and edges and are susceptible to cuts and scratches. Heat can damage laminate countertops, so be sure to protect from hot pots, pans, etc.
Butcher Block Countertop.
Butcher block countertops are constructed from a variety of solid wood boards. The name is derived from the fact that this style of countertop was traditionally seen in butcher shops. These surfaces typically come in thick wooden slabs, which must be cut to shape, sanded and finished before installation. The selling point of butcher block for most individuals is its natural beauty. Although it can provide a long-lasting, visually appealing work surface, there are several important maintenance considerations.
Wood is a naturally porous substance, so it must be properly treated to prevent the growth of germs and bacteria. Surfaces can either be sealed or oil-finished. Wood surfaces that are not sealed must be regularly treated with a special food-grade oil or conditioner to prevent cracking, water damage, and to maintain sanitation standards. Applying butcher block oil or conditioner often requires multiple coats and may change the color of the wood slightly. Natural blemishes will occur over time, especially if the surface is used for cutting, and should be considered part of the rustic charm of the product. Wipe up any spills immediately to prevent the wood from staining. Sanding and refinishing the surface can restore the look of butcher block.
Recycled Glass Countertop.
A recycled glass countertop is an attractive, environmentally friendly option that lends a completely unique looks to any kitchen. The glass shards used to manufacture the surface are held together using either a cement-based binder, which you must reseal annually, or a resin-based binder, which requires no sealing. Like other, more traditional surfaces, recycled glass countertops come in a variety of colors and patterns and are stain, heat and scratch resistant — plus the resin-based varieties are completely non-porous, so they resist mold and mildew.
Because recycled glass countertops are made from repurposed materials, the final product may vary slightly from manufacturer-provided samples. Also, you must use special care as these surfaces may scratch or chip, especially around the edges, if you drop heavy objects on them or scrape sharp objects such as knives along them.
Combining Countertop Surfaces
For a truly customized cooking experience, install a combination of different countertops for specific kitchen tasks. For example, stone surfaces work nicely near the range, while solid surfaces are perfect for use around the sink for easy cleaning.
Because of special exceptions, like custom orders, combinations of countertops could be the most expensive option. Speak with a kitchen project specialist about your budget or needs to find the perfect countertop options for your kitchen.
Source: lowes
Floor Floor We Restore has re-established the attractiveness in hundreds of homes and businesses throughout the Houston Area for Over 20 Years. Since 1984, we have provided maintenance and restoration that is essential to the beauty of floors and surfaces everywhere. With 30+ years of experience and never using subcontractors, we have perfected our trade to better serve you. We are a locally, family owned and operated company who GUARANTEE all of our work.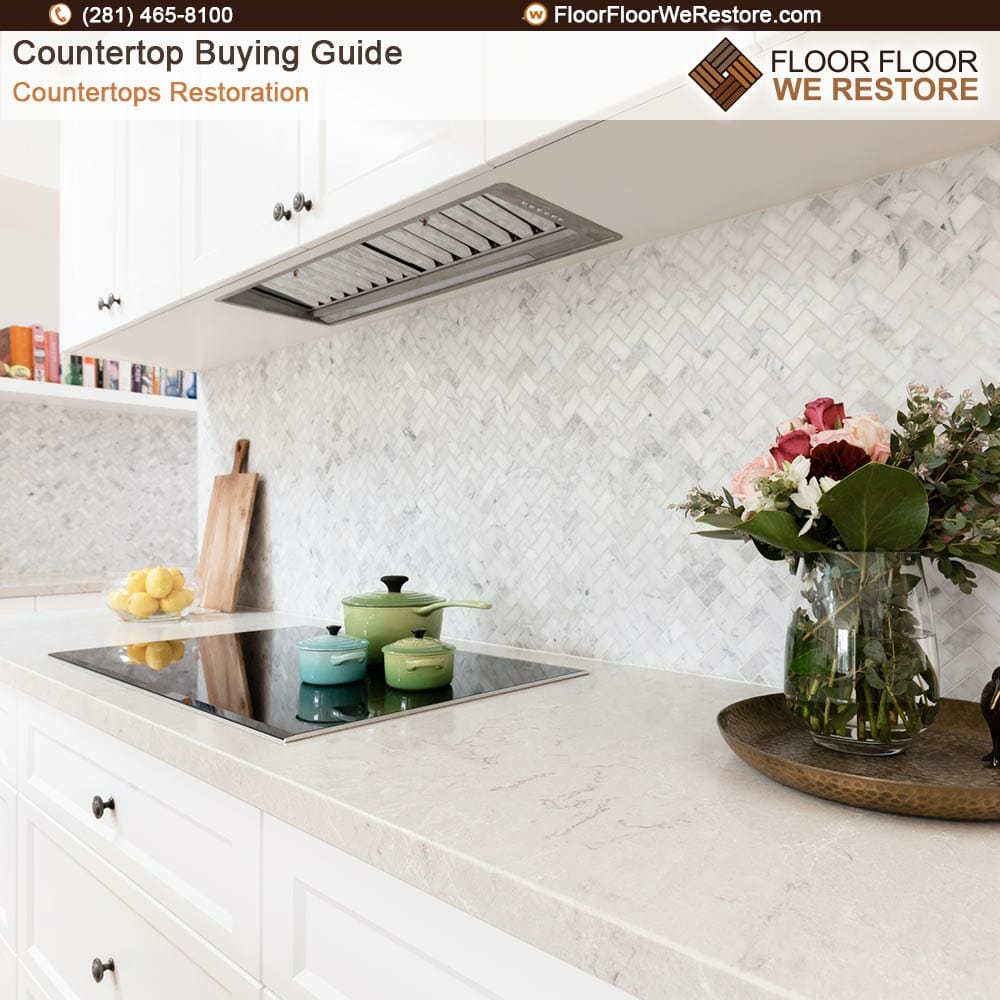 Countertops Restoration.
Floor Floor We Restore, Marble Flooring In Houston, Hardwood Floor Restore In Houston, Houston Restore Hardwood Floor, Houston Restore Hardwood Floor Shine, Restore Wooden Floor, Restore A Floor Reviews, Restore Floor Tiles, Wood Floor Restore, Floor Restorers, Floor Restore And More, Floor Restorer, Hardwood Restore, Stone Restore, Slate Restore, Saltillo Restore, Tile Restore, Grout Restore, Terrazzo Restore, Travertine Restore, Floor Surface Restore, Floor Recovery, Cleaning Hardwood Floors, Hardwood Floor Polish, Buffing Floor, Water Damage Floor Restoration, Sand And Finish Hardwood Flooring, Hardwood Floor Installation, Hardwood Floor Repair, Hardwood Floor Installation, Hardwood Floor Repair, Hardwood Floor Installation, Hardwood Floor Repair.