Floor Floor We Restore
While installing hardwood floors looks as easy as putting together a jigsaw puzzle, it is usually best to hire someone with the specialized tools and knowledge to make this project fit together seamlessly.
Installers are often small one- or two-person outfits and can be hard to find. Where do you find good floor installers and how do you hire them?
The Beauty of Having It Done For You
Some home projects you can do yourself, you already have the skill set: interior painting, for instance.
So, hiring a professional to paint your home feels like a bonus.
But installing solid or engineered wood flooring is a different matter. Most likely, you do not have the full skill set necessary to bring the project to perfect completion.
Competent floor installers really do work a kind of magic. They arrive early in the morning, set up their saws outdoors (if the weather allows) or in the garage, lay down rosin paper, cut open the boxes of flooring–and that is just in the first hour.
By the end of the day, your house now has a new floor installed in your kitchen or dining room or living room.
That is the beauty of hiring professionals to take on difficult projects.
Be Nosy
When a nearby house is getting a wood floor installed, walk over and check out their work. When they take a break in work, ask for a card or a contact number.
Also evaluate their work habits. Do they respect the home and the property?
Are they wasting too much board length with their cuts?
Ask Your Neighbors
People love to give advice. You will either get a strong thumb's up or thumb's down about the quality of their wood floor installation.
Store Contact Lists
Stores that sell flooring materials often have a list of independent installers.
While these installers many be unaffiliated with the stores, the stores do have a vested interest in weeding out the bad installers and promoting the good ones.
Lead Generators
Online middlemen who connect you with home professionals such as flooring installers are called lead generators. When you go through these websites or apps to find a local company, they get between $25 and $75 per lead.
Lead generators come and go all the time. HomeAdvisor (formerly ServiceMagic) is the oldest and is considered the most reputable home services-related lead generator.
Keep in mind, though, that when HomeAdvisor sends three floor installers in your direction, this is no guarantee of quality. Contractors and tradespeople pay to get leads from HomeAdvisor. HomeAdvisor only checks that minimum standards (bonding, insurance, etc.) are met.
Call us today at 281-465-8100 or 832-797-8184 we can help you to install your hardwood floor.
Source: thespruce
Floor Floor We Restore has re-established the attractiveness in hundreds of homes and businesses throughout the Houston Area for Over 20 Years. Since 1984, we have provided maintenance and restoration that is essential to the beauty of floors and surfaces everywhere. With 30+ years of experience and never using subcontractors, we have perfected our trade to better serve you. We are a locally, family owned and operated company who GUARANTEE all of our work.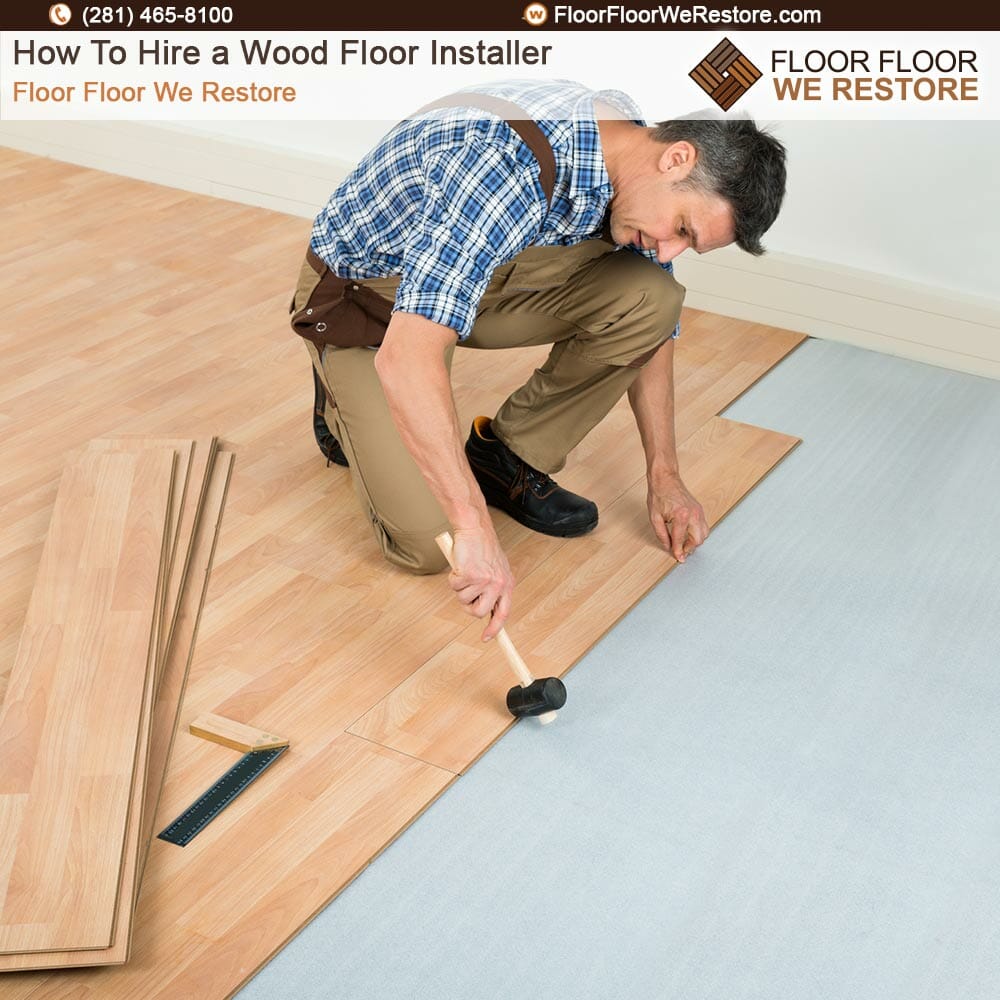 Floor Floor We Restore.
Floor Floor We Restore, Marble Flooring In Houston, Hardwood Floor Restore In Houston, Houston Restore Hardwood Floor, Houston Restore Hardwood Floor Shine, Restore Wooden Floor, Restore A Floor Reviews, Restore Floor Tiles, Wood Floor Restore, Floor Restorers, Floor Restore And More, Floor Restorer, Hardwood Restore, Stone Restore, Slate Restore, Saltillo Restore, Tile Restore, Grout Restore, Terrazzo Restore, Travertine Restore, Floor Surface Restore, Floor Recovery, Cleaning Hardwood Floors, Hardwood Floor Polish, Buffing Floor, Water Damage Floor Restoration, Sand And Finish Hardwood Flooring, Hardwood Floor Installation, Hardwood Floor Repair, Hardwood Floor Installation, Hardwood Floor Repair, Hardwood Floor Installation, Hardwood Floor Repair.