Marble Flooring In Houston
Just like everything else in the world, your marble floors require adequate care and maintenance to retain their attractive appearance. Poor cleaning methods will cause your marble floors to lose its shine. It will appear dull, and with continued negligence, an eyesore. Just as marble floors stand out in appearance from the rest of your home in its own magnificent way, it'll equally stand out in an agonizing way if it doesn't receive the proper care and attention it needs. This is why periodic care is important for your marble floors.
It's worth mentioning cleaning and caring for floors is…just easy, just follow the tips and your marble floors will serve you for as long as your house stands.
1. Keep Your Marble Floor Clear of Dust
This is one of the easiest ways your marble floor will lose it shine, very quickly too. Besides, dust aren't friends of marble. Ensure your floor is dust free. Simple regular mopping will keep dust off your marble floor and leave it to shine every hour of every day,
2. Use Recommended Cleaning Agents
Marble is a natural stone material, like all stone floors, they are quite special cleaning agents. These are the neutral-ph cleaners. Use these agents along with water to clean and wash your marble floors. Cleaning agents with a little bit of acidity or alkalinity may mar the surfaces of your stone floor. You may also need to reserve a special mop for use on your marble floors – it's best not to mix these cleaners together. Their combined effect in your marble floor may be awful.
3. Avoid Spills
Most times spills are unavoidable, that doesn't mean you have to leave them to dry on your floors. The smudges they leave are big dents to the appearance of your marble floors. Not only will your floor appear dull and dirty, it is highly unsafe. You see, some marble floors are very smooth, spills on these floors (or any kind of floor) is a safety hazard. It's very easy for you, your kids or anyone to slip, lose their balance and fall to the floor – these floors are also very hard.
Pretty easy right? But some people choose to neglect it. Hopefully, you aren't one of them. As you can see not only will your marble floor lose its appeal over time, but someone can get really hurt.
Source: maid2kleen
Floor Floor We Restore has re-established the attractiveness in hundreds of homes and businesses throughout the Houston Area for Over 20 Years. Since 1984, we have provided maintenance and restoration that is essential to the beauty of floors and surfaces everywhere. With 30+ years of experience and never using subcontractors, we have perfected our trade to better serve you. We are a locally, family owned and operated company who GUARANTEE all of our work.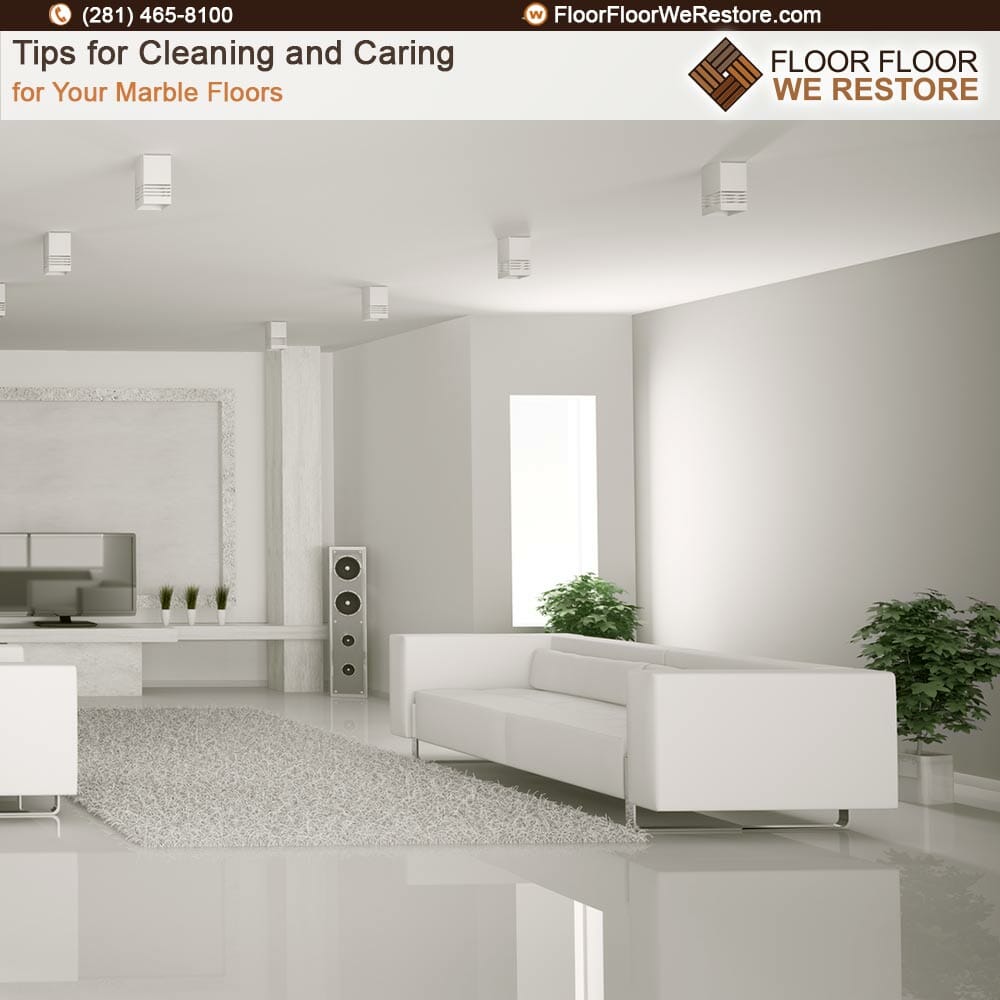 Marble Flooring In Houston.
Floor Floor We Restore, Marble Flooring In Houston, Hardwood Floor Restore In Houston, Houston Restore Hardwood Floor, Houston Restore Hardwood Floor Shine, Restore Wooden Floor, Restore A Floor Reviews, Restore Floor Tiles, Wood Floor Restore, Floor Restorers, Floor Restore And More, Floor Restorer, Hardwood Restore, Stone Restore, Slate Restore, Saltillo Restore, Tile Restore, Grout Restore, Terrazzo Restore, Travertine Restore, Floor Surface Restore, Floor Recovery, Cleaning Hardwood Floors, Hardwood Floor Polish, Buffing Floor, Water Damage Floor Restoration, Sand And Finish Hardwood Flooring, Hardwood Floor Installation, Hardwood Floor Repair, Hardwood Floor Installation, Hardwood Floor Repair, Hardwood Floor Installation, Hardwood Floor Repair.